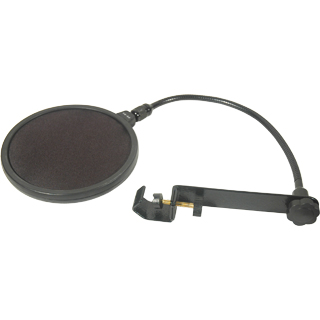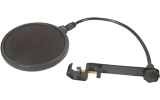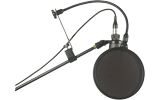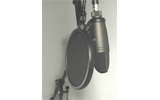 77-010
Description
Recording environments require a clean, clear vocal track for a professionally produced finished product. The Grundorf Pop Screen provides a low-cost solution to solve this high tech problem by helping to control and prevent undesirable, harsh, breathy bursts or "pop" sounds.
The Grundorf Pop Screen is made to fit any microphone. This all black pop filter comes equipped with a high-quality, 6" dual-screen mesh filter for greater "pop" filtering. The injection molded frame is light weight to prevent that annoying "drooping" that heavier metal or wood frames can cause.
The 77-010 Pop Screen comes complete with an adjustable steel clamp that attaches to any mic stand. You can attach it to a straight stand or a boom arm to position it for each vocalist's preferences. The slim, flexible, 14" metal gooseneck (also included) is equipped with a universal mounting bracket.
The Grundorf Pop Screen is designed for commercial or home recording studios, television stations, and radio stations.
Specifications
Product Weight:

0.50lbs / 0.225Kgs

Home |

Literature Request |

Contact Us |

Legal

Grund Audio Design Home Page
Copyright © 1996-2018 Grundorf Corporation. All Rights Reserved